We look forward to seeing you all in 2021!!
To enter The Spoon River Valley Scenic Drive Photography Contest, please use the Photography Contest entry form found in the program book or use this link to download and print a form.
Helpful
Tourist Information
The Spoon River Valley Scenic Drive is packed full of events and festivities that will keep festival goers entertained throughout their stay. Discover new, exciting places and have fun in the various activities that are in store for you.
Please take the time to review the following reminders and rules to ensure that you can enjoy the Fall Festival to the fullest.

1) Get your information from local stops and not from traffic officers.
2) Sites are open from 9:00 a.m. to 5:00 p.m. during the event of the Fall Festival.
3) If traffic is slow, do not honk your horn. There may be less traffic in early morning; sometimes traffic is better in the congested areas in the early afternoons.
4) All sites remain open rain or shine. Sites close only in hazardous weathers such as local tornado sightings.
5) Use your turn signals.
6) Please be aware this is a farming community. Please be cautious of our farmers moving from field to field by the roadways.
7) Be courteous to all of our friends as they enjoy the beauty of the Spoon River Valley Scenic Drive with you. We can maintain a fun, warm atmosphere when everybody is on their best behavior.
8) Obey traffic and parking directions.
9) Be courteous to volunteer traffic officers who are trained by traffic control.
10) At our festival, you will be taking a self-guided tour of the Spoon River Country area. You can walk or drive around the Spoon River Valley Scenic Drive at your own pace so drive slowly and enjoy the countryside.
---
The listing that follows are the hotels, motels, B & B's, camping for local and larger cities outside of Fulton County. The list of lodging options are for your information only. The Spoon River Valley Scenic Drive Associates do not endorse any particular facility.
On this page:
Helpful Tourist Information
Self-Guided Tour
Lodging
Fulton County Links
Self-Guided Tour of Spoon River Country
We would like to invite you to visit us any time throughout the year as well as our Fall Festival. We always have something to see and people to visit in Fulton County, Illinois. Please check websites or call ahead and make sure the things that you are interested in are open or can be opened for you. We also welcome bus tours.
So many of our communities have excellent businesses, restaurants, parks, history, educational exibits, entertainment, and natural wonders for your enjoyment.
---
The Spoon River Valley Scenic Drive Associates has provided each contributor (vendors, merchants and demonstrators) with a large red and white logo sign. This contributor's sign shows that person or business has registered with the Associates and is a LEGITIMATELY REGISTERED VENDOR for the Fall Festival. It is the financial support of these contributors which makes the Fall Festival possible. The costs of the Drive's Fall Festival include advertising, promotion, sanitation, information, office costs, entertainment, and various other costs supported by those who contribute. Visitors are asked to patronize only those vendors displaying the red and white contributor's sign pictured to the left. These logos will help you to identify the legitimate stops.
Drive safely and enjoy Fulton County!!
---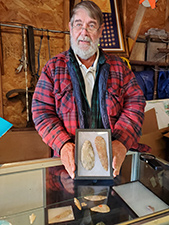 Please Contact Us if you would like your business listed.
Bed & Breakfast
Peace of Earth Lodge, 7 miles Southwest of Astoria, IL
(217) 322-2865
Camping
Anderson Lake Conservation Area
655 N. IL 100 Hwy, Astoria, IL
(309) 759-4484
Avondale Lake
1249 Co. 20 Hwy., Avon, IL
(309) 335-0550
Evening Star Campground
23049 US Hwy. 136, Topeka, IL
(309) 562-7590
Fulton County Camping & Recreation Area
18733 Conservation Rd., St. David, IL
(309) 668-2931
Rice Lake Conservation Area
19721 US Rt. 24, Canton, IL
(309) 647-9188
Valley View Campground
17837 US Hwy 24, Lewistown, IL
(309) 547-3183
Local Motels & Hotels
Big Horse Inn & Suites,
805 S Main St,
Lewistown IL. 61542
(309) 547-0101
Canton Harvester Inn
North of Canton Square, Canton, IL 61520
309-357-5820, www.cantonharvesterinn.com
Local Motels & Hotels continued
Candlewood Suites at Grand Prairie
5300 W. Landens Way, Peoria, IL 61615
(309) 691- 1690, www.petersenhotels.com
Canton Inn
665 W. Locust St.
Canton, IL 61520
(309) 647-7111
Country Inn & Suites by Radisson
5309 W. Landens Way
Peoria, IL 61615
309-589-0044, www.petersenhotels.com

Courtyard Peoria
1928 W. War Memorial Dr., Peoria, IL
309-686-1900
Hampton Inn & Suites at Grand Prairie
7806 N. Rt. 91, Peoria, IL 61615
309-589-0001, www.petersenhotels.com

Heritage Grand Inn
1120 E. Linn St., Canton, IL 61520
309-647-9675, www.hgicanton.com
Holiday Inn & Suites
7601 Orange Prairie Rd., Peoria, IL 61615
309-683-3399, www.petersenhotels.com

Red Lion Motor Lodge
1020 E. Laurel Ave, Havana, IL 62644
309-543-4407
Residence Inn
2000 W. War Memorial Dr. , Peoria, IL 61614
309-681-9000
Super 8 by Wyndham
2110 N. Main St., Canton, IL 61520
309-647-1888, www.wyndhamhotels.com
Wildlife Prairie Park
3826 Taylor Road, Hanna City, IL 61536
309-676-0998, wildlifeprairiepark.org
Wingate by Wyndham
7708 N. Rt. 91, Peoria, IL 61615
309-589-0033, www.petersenhotels.com